It is rather exception when an equatorial telescope mount is so precisely aligned to the celestial pole, that the field of view does not at last very slightly rotate during very long exposures. Field rotation is of course much more obvious when the portable mount is only quickly (and less precisely) aligned in the evening. Let's note that field rotation has nothing to do with a quality of guiding. Guiding keeps a selected star on one place, while the tracking in the R.A. axis, not accurately pointed to the pole, causes rotation of other stars around the guiding star.
If the image is not acquired as single very long exposure, but as a sum of individual shorter exposures (which is almost always true when talking many hours exposures), it is possible to compensate field rotation in software. This possibility was added into SIMS version 1.1.6.
The image stacking tool of the SIMS program offers only x and y axes shift by default. It is possible to define sub-pixel precision from 1 (whole pixel mutual shift) to 1/16 of the pixel in such case. (Previous versions of SIMS software offered only 1/8 of pixel precision).

If the tool allowing rotation is checked (pressed), it is possible to define also rotation angle in addition to x and y axes shift. Ability to define sub-pixel precision is disabled in such case, because rotation with whole pixel resolution is practically not usable. If the rotation is allowed, the software will always use sub-pixel precision.

While it is enough to mark single star on both images to determine mutual shift, it is necessary to use at last two stars to calculate shift and rotation. If we do not want to define shift and rotation manually for each image (really a tough work), we must mark two stars on each image. Because the star order is important in this case, the stacking tool displays small index (1 or 2) close to each marked star.
Software toggles indexes when stars are marked to help marking star pairs on multiple images. When it is necessary to select star with the same index again, but the tool offers marking of the star with another index, it is possible to explicitly select index to be marked using tools close to the tool allowing rotation.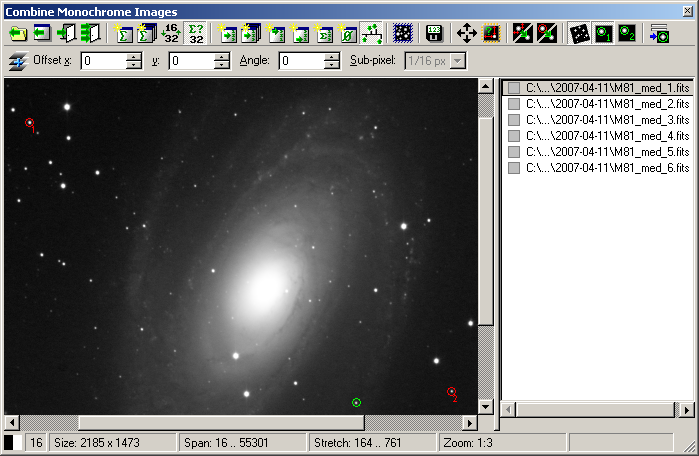 While star position and brightness is not very important if only mutual shift is determined (the star should not be extremely dim as well as not saturated of bloomed, else the precision of star centroid calculation would be compromised, of course), it is recommended to choose stars as far as possible (in the opposite corners of the image) in the case of two star alignment. This significantly enhances precision rotation angle calculation.
Of course it is not necessary to mark star pairs on individual images manually. When the rotation is allowed, automatic registration takes it into account when matching images.

What is the influence of field rotation? When we carefully examine corners of image created as a sum of 6 exposures, taken within 4 hours period, without rotation and with rotation, we can see the difference. Very slight inaccuracy of mount polar axis alignment (even if the used mount is permanently installed on observatory) causes prolonging of star images into small arcs. Stars remain circular when rotation is allowed.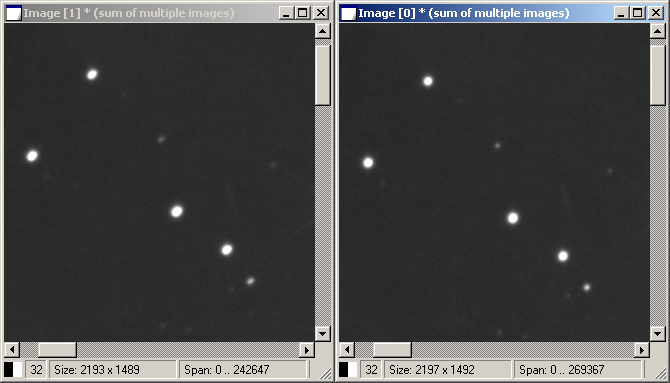 Another enhancements and function changes
Control of Celestron telescope mounts using NexStar protocol.

The program requires NexStar protocol version 2.3 and higher. Current protocol versions (year 2010) of Celestron mounts are 4 and higher, mounts made by Synta (EQ5, HEQ5, EQ6 etc.) with SynScan controllers use compatible protocol version 3 and higher, so SIMS should work well with these mounts.

SIMS changed the logic of image zooming using mouse wheel beginning from this version. Previous versions used model "user stands still, image moves". This means rolling of the mouse wheel to user virtually "dragged the image to the user", so the image was enlarged. On the other side, rolling the mouse wheel away from the user "moved the image far away", so the image was shrunk. Now the logic works according to the model "image is still, user moves". Rolling of the mouse wheel to user virtually "moves the user away from the image", so the image shrinks. Rolling the mouse wheel from the user enlarges image.

We are aware of the problems, which such change brings to all users, who used to zoom images using mouse wheel. But this change was not just a result of a change of mind of some programmer. It was necessary to harmonize SIMS zooming behavior with multi-touch gestures of Windows 7 operating system. Touch controllers supporting multi-touch gestures (be it a touch-screen or a touch-pad, used in laptop computers) allow enlarging and shrinking of images by moving two fingers farther apart or closer to each other. Unluckily, the originally chosen logic in SIMS caused enlarging of images when fingers moved closer and vice versa. So it was necessary to change it.

The FITS header keyword "HIERARCH" is now properly recognized. This particular keyword syntax does not follow typical conventions and is not followed by the equal sign "=". (similarly to e.g. "COMMENT" or "HISTORY" keywords). SIMS does not mark lines with this keyword as erroneous now.

There was an error in calculation of sub-pixel fragments when multiple images were stacked with sub-pixel precision. This inaccuracy influenced especially the noisy background of images—the spectrum of the noise was altered when multiple images were stacked.
Bug fixes
Combine RGB Images tool created monochrome images, even if sum of color images was performed.

Another options in Combine RGB Images tool (median, maximum, minimum, ...) didn't work correctly in previous versions.

The "Keep Current" option of the automatic calculation of stretch limits (keep current means reuse stretch limits from the actually selected image) did not work when both images dynamic range difference crossed the binary order value (this means the number of bits necessary to represent maximum pixels value was different).
SIMS v1.1.6 can be freely downloaded from the download section of this WWW server