New features
Version 2.0.2 adds the ability to control Digital focusers and Observatory domes in addition to Cameras, Telescope mounts and GPS devices.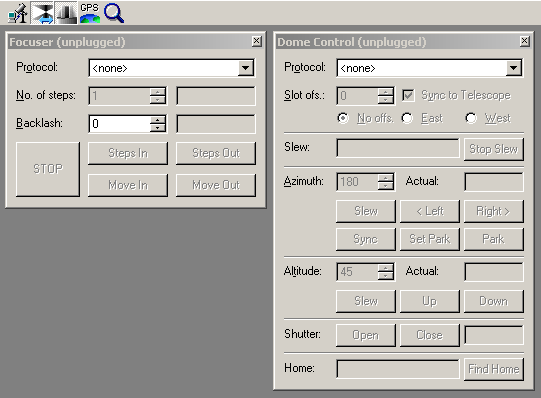 New standard for driver interfaces for the above mentioned devices was introduced. It was designed to be as close as possible to ASCOM defined protocols for focusers and domes to make future mapping of ASCOM drivers as easy as possible.
Another "chessboard image filter", cropping four squares from the corners and one square from the center of source image and composing them into resulting image, was added. We used quotes because it is not typical image filter, it is rather intended for usage during focusing only. Especially when using wide field cameras with large CCD detectors, optics is only rarely capable to create perfect image over e.g. 50 mm diameter of G4 detectors. Focusing is the a compromise between image quality in the image center and in the very corners. This chessboard filter allows inspection of critical portions of large images without zooming (which hides fine details) or extensive scrolling of the downloaded image (which consumes lots of time).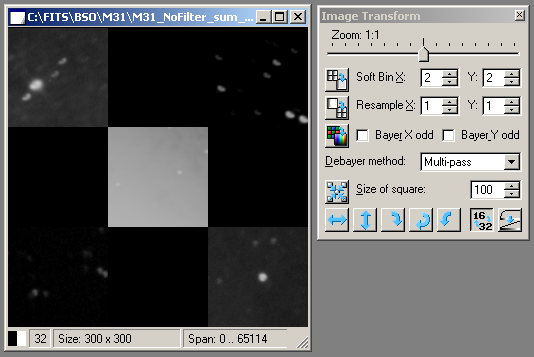 Chessboard filter can be applied to any image within SIPS from the Image Transform tool windows or can be applied directly to images downloaded from the camera, which is defined in the New Image Transform tool window. (Only do not forget to switch this filter off when acquiring final image after focusing :-).
Bug fixes
Open File dialog box does not hide behind the main SIPS window when deselected.

CCD Camera tool properly enables/diables controls (Start/Stop buttons etc.) when camera is unplugged during image download.

Fixed problem while loading FITS images with improperly formated string headers.

Fixed problems with asynchronous handling of camera commands.
SIPS v2.0.2 is a freeware and can be downloaded from the download section of this WWW site.