The WiFi adapter can be plugged into any USB port. The Gx Camera Ethernet Adapter then can be added to any existing WiFi network.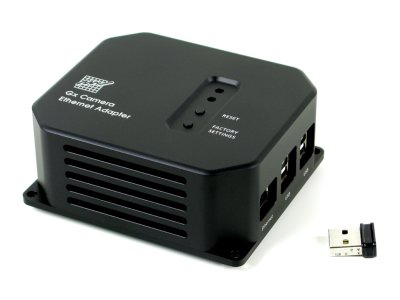 Because the WiFi adapter antenna is located outside of the device metal case, the signal reception is better compared to devices employing WiFi adapter with antenna soldered on the electronics circuits board. The USB 2.0 HiSpeed transfer rate 480 Mbps typically do not bottleneck the WiFi transfers, which are usually slower.
Device with attached USB/WiFi adapter has to be configured over a wired Ethernet connection exactly like the standard Gx Camera Ethernet Adapter. However, the configuration page offers the WiFi adapter configuration section.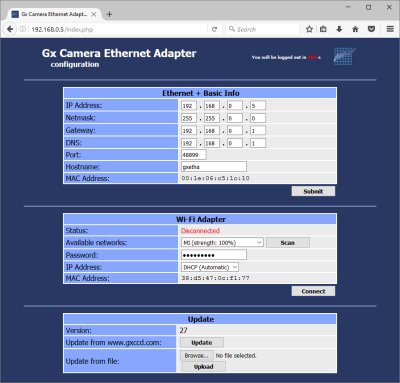 There are two possibilities how to assign the WiFi adapter IP address. The first possibility is to let the DHCP server assign it. Because the Gx Camera Ethernet Adapter is accessed as a server, it is necessary to assign a fixed address to it, so the clients always know the address to which they should connect. It is usually a task of the DHCP server configuration, which allows assigning a particular IP address to the device with defined MAC address.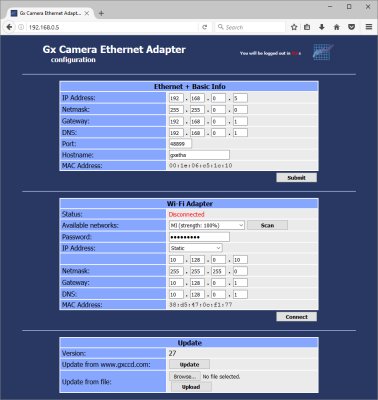 Another possibility is to configure the IP address of the Gx Camera Ethernet Adapter manually.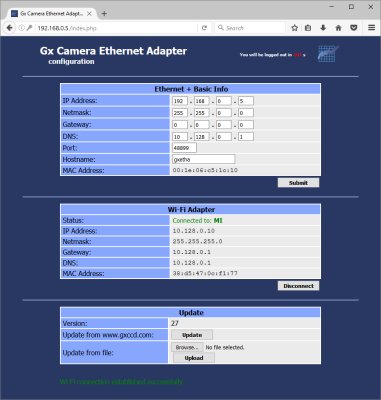 The properly configured USB/WiFi interface can then be connect to WiFi network. The configuration page indicates successful connection.